Last night, a dozen drunk kids decided to come out to Kauffman Stadium to lend support to lackluster first basemen Doug Mientkiewicz: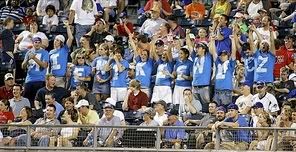 They probably did not choose Dougie based on his baseball skills. He's hitting .250 with a .338 OBP and a .331 SLG%. Brought in primarily for defense (because that's all you want at first base... forget any power or hitting ability), Dougie has helped the Royals win 10 out of their first 43 games. Yep, that glove sure has turned the ballclub around. They are now on pace to break the loss record by the 1962 Mets.

But back to the Doug Mientkiewicz Fan Club. These idiots chose him because he has twelve letters in his name. That's it.

But maybe, just maybe, Dougie would look at these goobers and be inspired to play the greatest game of his life and end the Royals' losing streak at 10.

Let's go to the highlights:


Not a good start. In the first, Dougie's ball dropped. Er, I mean, he dropped a ball. At least he managed to avoid looking like an idiot.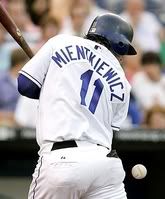 While batting in the second, America's Troubador Kenny Rogers drilled Dougie in the ass with a fastball. At least he managed to avoid looking like an idiot.



While running to second, Dougie fell hard on his ass as he tried to slide. At least he managed to... well, he looked pretty foolish by this point in the game.

Dougie's final line: 0-3, 1 K, 1 HBP.



So why didn't these kids start the Mark Grudzielanek Fan Club instead? His last name has twelve letters too. And he's actually good. Marky's line last night: 3-4, 2 HR, 2 RBI, 3 Runs.

Idiot kids.

It's okay.

It could have been worse.

Remember when the Esteban German Fan Club attended a game?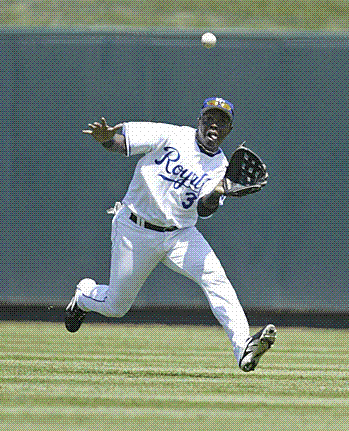 Good times, good times.


Go Royals! You're the best!