So Kansas City heads into the All-Star Break with a 31-56 record.
Terrible?
Yes.
But it could be much, much worse.
Only a month ago, the Royals were on pace to lose more games than the 1962 New York Mets, the worst team in modern history.
And now?
Well, now they are still on pace to lose over 100 games. But they aren't all-time bad. They aren't even the worst team of 2006 any longer. Youngsters David DeJesus, Mark Teahen, and John Buck have led the surge in the standings, moving KC past the Pirates and nipping at the Cubs' heels.
So, hey, not the best team in the league or anything.
But, finally, not the worst.
Baby steps, right?
And the team will begin making tremendous strides in the next couple seasons.
Everyone who watched the Futures Game yesterday saw that Wichita Wranglers Alex Gordon and Billy Butler can rake. Gordon had a single, a double and two RBI. Butler had a single and a two run homer. And Billy Boy was named the MVP.
Everyone was abuzz at the prospects of these two Royals prospects.
Gordon will probably be on the Royals' opening day roster next year and Butler will likely follow him to KC sometime during the '07 season.
Add to the 2007 roster Omaha's Justin Huber. He was the Futures Game MVP last year.
With DeJesus, Buck, and Zack Greinke, the Royals should at least be a decent team, if not a contender, over the next several seasons. They'll have to get some more pitching, but with a good offense, Moore should be able to get a few guys. That puts the window of being a winning ballclub at about 2008-2013, with a good shot of keeping it going beyond that, should Dayton Moore make good decisions.
And wouldn't that be weird?
Really, really weird?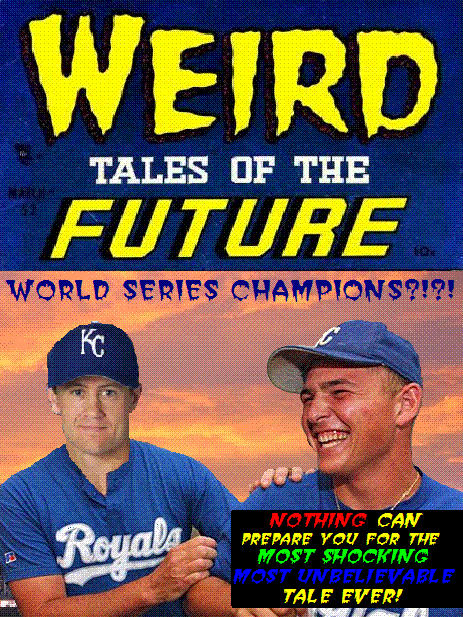 After being terrible or, at their best, simply mediocre, for the past twenty years, we could soon see the Royals *gasp* in the playoffs.
And honestly, being a fan through one of the worst eras of any sports team ever will have been worth it.
As Percy Bysshe Shelley wrote, "Fear not for the future, weep not for the past.
Or as Timbuk 3 put it, "The future's so bright, I gotta wear shades."
Go Royals! You're the Best!