It's now time to recap the past week of Royals baseball. But here at Royales with Cheese, we don't talk about how the actual games went (the wounds are too fresh). Instead, we talk about the unimportant stuff. Here are the top stories, in no particular order:
Torii, Tory, Torry
Poor Torii Hunter is in trouble again. In the last week, he has been in hot water for talking shit on baseball's tribute to Jackie Robinson and for sending four bottles of champagne to Mike Sweeney. On Thursday, Zach Greinke hit Hunter in the face with a wild pitch, creating this latest situation. No, Hunter didn't charge the mound (though he thought about it). He's actually being sued by Universal Pictures and the estate of H.G. Wells for copyright infringement of their classic Invisible Man character:

Bagels Bagged By Boffo Business
Panera Bread has pulled out of their Baker's Dozen of Bagels promotion. If the Royals collected 13 hits and won at Kauffman Stadium, all ticket holders were entitled to a baker's dozen of bagels. Well, the Royals accomplished this feat on April 20th, and Panera found themselves unable to deliver the goods. The timing couldn't have been worse, as the restaurant's inventory had already been diminished by roving gangs of stoners earlier in the day.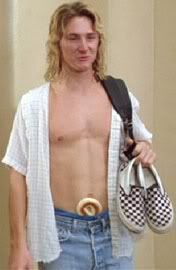 Mike Sweeney Homers for Sick Boy
The headline says it all. On Wednesday, Sweeney promised a boy about to undergo an operation for a brain aneurysm that he would homer off of Sidney "King Hippo" Ponson. And he delivered. No real joke to make here.
Though one has to wonder, if he can hit a homer for a sick boy, why can't he homer more often for a sick team?
Yeah, that was probably uncalled for.
Oh well.
Go Royals! You're the Best!