First, let's get this out of the way:

BLAH BLAH BLAH TOO MANY RED SOX AND CUBS BLAH BLAH BLAH THE ALL-STAR GAME IS A JOKE BLAH BLAH BLAH WHO CARES BLAH BLAH BLAH

There.

Done and done.

So the season is over halfway through, and the Royals aren't much better (at least record-wise) than they have been the last five years. Sure, there are some young players that have the potential to be great and a decent pitching staff and an adequate bullpen bolstered by superstud closer Joakim Soria.

But watching the games, it's basically same shit, different season.

It will be years before we can discuss the plethora of Royals that SHOULD be in the All-Star Game (dear God, let that happen someday), but I'm pretty satisfied with our one selection this year. At least it's not Mark Redman.

On the other hand, the rest of the 2008 Royals roster has been loaded with Non-Stars: dead weight, under performers, drunken wifebeaters, loudmouth malcontents, and guys so insignificant that their names will be nothing more than words Royals fans throw out to make inside jokes about futility or to scare small children ("Brush your teeth, Mikey, or Tony Pena, Jr will crawl in your window at night and drink your blood!")

He's already adept at sucking the life out of every at bat, sucking the life out of the team, and just plain sucking. So that's why Tony Pena, Jr. is our first entry on our First Annual All-Non-Star Team.

Attributes: .155 Avg, .176 OBP, .204 SLG %, 41 K, 5 BB, looking suspiciously like Nosferatu.


Our second Non-Star is Esteban German. The former super-sub is playing terribly on offense and defense this season.
Attributes: .213 Avg, .247 OBP, .250 SLG %, 4 E, countless double plays not turned, 57 bat flips. On the other hand, he hasn't tried to catch any fly balls with his face this year, so that's a plus.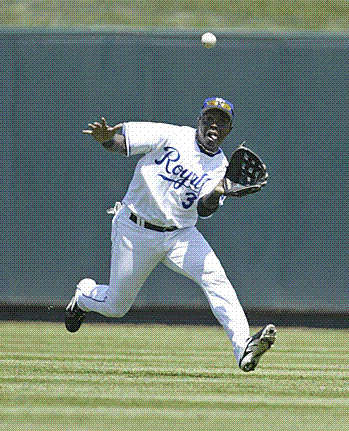 Then there is Alberto Callaspo. He had already been arrested for domestic abuse when the Royals traded for him in the offseason. He added a DUI a few weeks ago when he got pulled over by Maple Woods Community College Police. The Royals responded by sending him off to AA. No, not the Northwest Arkansas Naturals. They sent him to Alcoholics Anonymous, somehow making him eligible for the Disabled List.
Attributes: GLUG GLUG, VROOM VROOM, THUMP THUMP.
Jeff Fulchino and Billy Butler are quite the pair of Non-Stars.
Attributes: Is it me, or did this team just get fatter?
Joey Gathright is fast. Faster than nearly every player in the majors (except maybe Emil Brown). And he can jump over pitchers and cars. These would be good attributes if he was a track star or a superhero. Unfortunately, to be a professional baseball player, you need more than wheels and ups. You need to be able to hit.
Attributes: .250 avg, .302 OBP, .267 SLG %, 3 extra-base hits, inability to listen when another fielder yells "I got it!"
International Non-Stars Hideo Nomo and Yasuhiko Yabuta have stunk up the Royals bullpen this season.
Attributes: Yabuta, making $6 million over this season and next, is sporting a 5.46 ERA and has doled out 17 walks compared to 20 strikeouts. Since being optioned to AAA, he hasn't done much better. Hideo Nomo is out of baseball, but just became the first man to give birth. He'll be on Oprah soon, so check your local listings.
Jimmy Gobble was one of KC's best relievers last season. That was until spring training, when he stepped on a cactus and got a huge thorn stuck underneath the toenail of his big toe. Ever since this incident, he has sucked. I'm not saying the two things are related. I'm just giving you the facts.
Attributes: 7.61 ERA, 1.82 WHIP, 16 BB's vs. 20 K's, 4 Wild Pitches, Ugly-Ass Feet
Just like the real All-Star game, some deserving players have to be slighted. So, apologies to Brett Tomko, John Bale, and Mark "Thug Life" Teahen.
You guys did your best to make the squad, but it was just too competetive and there were more deserving candidates.
And there you have it. Your 2008 All-Non-Star Team.
In case some of those statistics and images weren't disturbing enough for you, remember that Tony Pena, Jr. is always watching you...
Go Non-Stars! You're The Best!