Sometimes I feel like Ken Harvey was nothing more than a weird dream I had.
He was actually a pretty promising player, a corn-fed Nebraska Cornhusker who made short work of the minor leagues and seemed destined to be the Royals first baseman for years. In his second full season in 2004, he had a strong first half and was the Royals' lone All-Star representative.
He pretty much tanked it for the rest of the season, with injuries to his back and Achilles taking their toll on him over the next year. During that time, he became a punching bag for Royals fans for his strikeouts, pop-ups, and bizarre injuries... Not to mention his lack of speed, grace, power, and looks. During this time, he gained the nickname "Grimace," I guess because he resembled a french-fry-eating purple blob. I'll let you decide if that's racist or not.
Following his release from the Royals, Harvey joined the Kansas City independent team known as the T-Bones. There were some feel-good stories written by the KC media at the time about how Harvey was finally having fun again, how he might have a chance to make it back to the big leagues, but then a couple of years later, Harvey was also released by the T-Bones.
It was a sad ending to Harvey's KC career, but luckily, we'll always have the time he accidentally punched Jason Grimsley in the throat.
Here are a couple of GIFs of that, because of course there are: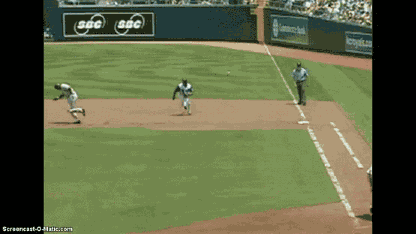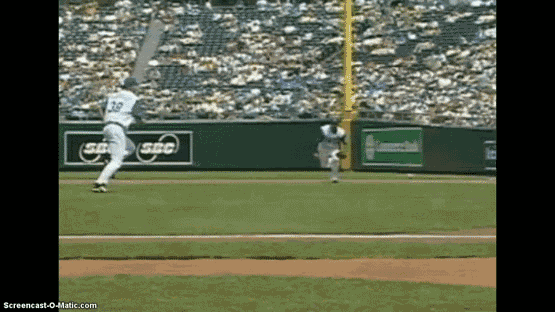 So why am I talking about Harvey right now?
Unfortunately, I ran into something very troubling on Baseball Reference recently that made me feel a lot like Jason Grimsley in the above GIFs.
This is a screenshot from Eric Hosmer's page:
Eric Hosmer's most "Similar Batter" is Ken Harvey!?! And a bunch of dudes I've never heard of? And then way down the list a couple of guys just because they broke into the league young, not because Hosmer has done anything remotely like them.
I found that troubling, so I went to Ken Harvey's page, where the worst was confirmed:
Pretty much the same names, but also, Doug Motherfucking Mientkiewicz.
Ugh.
So yeah, the odds are much better that Eric Hosmer becomes a less fat Caucasian version of Ken Harvey (a Chris Shelton, if you will) than, say, a helmet-less John Olerud.
By the way, I just Googled Chris Shelton and found out he's the cousin of Chiefs quarterback Alex Smith.
WHAT THE HELL IS GOING ON?
THE GODDAMN LATTICE OF COINCIDENCE STRIKES AGAIN.
Anyway, this seems like as good a time as any to look at some Ken Harvey cards I had lying around.
ROYALS VS. CARDS: KENNETH EUGENE HARVEY EDITION.
Let's do this.
2002 Flair #118:
Is this where the Grimace nickname comes from? Because that bitch looks like Grimace.
2004 Topps #462:
Ken Harvey, obese hitchhiker.
2004 The Jones Store Autograph Day:
This one may as well be a Death Tarot card. It features two Kansas City icons that would be gone within the year. Deservedly so, but still.
2004 Diamond Kings #132:
I love the way the artist managed to capture Harvey's badly manscaped goatee and lazy eye.
Exquisite.
2004 Fleer Ultra #295:
These were the kind of unfortunate action shots that made Harvey the butt of jokes.
Basically, he looks like your fat aunt in a baseball uniform. Or Kim Kardashian. ZING!


1994 Coca-Cola Monsters of the Gridiron #5:
Ken Harvey: Now with a reservoir tip!

Actually, this is the Ken Harvey who played football for the Phoenix Cardinals and Washington Redskins in the early 90s. He's portraying the very well-known monster "The Construction Worker."
The Monsters of the Gridiron series of cards may be my favorite cards of all time... the only football cards I ever actively cared about collecting. I'll probably never have another chance to show this, so here's the Derrick Thomas one for any Chiefs fans who read this blog--
1994 Coca-Cola Monsters of the Gridiron #15:
MEOW!
I've clearly gotten off track.
I guess that should do it for this edition of Royals vs. Cards.
Go Ken Harvey! You're the Roundest!