I have some great news for everybody. Dayton Moore has decreed that any moves made before the trading deadline will be to win this year. He says in the final seventy games, this team has a good run in it and he thinks it can finish .500.
Because .500, you guys!
.500!
As Rex Hudler said back in April, "A .500 season for the team? That's what you want. It's perfect."
Dayton Moore says we owe it to this group of players to try to win this year. You know, players like Bruce Chen, Luke Hochevar, Elliot Johnson, Wade Davis, and George Kottaras. Those men are winners and they deserve to have a record that reflects that.
That's why Dayton Moore picked up Pedro Ciriaco. He's now in his fifth organization in three years, but he's a winner, too. And we owe it to him to try to win this year.
Saturday, July 20th, is Relish Night at Kauffman Stadium. It may be a condiment, but it's a winner. We owe it to Relish to try to win this year.
Because calling someone or something a winner inherently makes it true, even if all the evidence in the world proves the opposite.
Go right ahead and try to act like the rest of this season matters, Dayton. You could trade Santana for a piece or two that might make the difference next year, but apparently you won't. You could get Ned to play Giavotella every game the rest of the way to finally determine if he's our second baseman or not, but you won't. Better yet, you could fire Ned and get a competent manager in here to get him acclimated to the team and players before next year, but you won't.
2013 isn't the year, Dayton. It never was. Just admit it and prepare for 2014. Because if you don't, 2014 likely won't be the year, either.
Most Royals fans have accepted the end, but Dayton Moore hasn't.

What are those fans to do?
The answer, obviously, is get drunk.
And luckily for you, we've got some swell Royals Recipes to help you spend the rest of the 2013 season in a drunken fog.
My wife and I spent an evening getting shitfaced to test out the various alcoholic beverages contained inside the Royals 1976 Cookbook. We found three in addition to
George Brett's Fine Wine
, but there was no way we were trying that again.
Here are the first two from Earl Smith, Royals Lancer and a member of the team's Board of Directors.
He's got some low-calorie drinks to get you drunk but keep you from becoming a bloated mess:
Here's are your ingredients for the Sparkling Gin Claret:
Honestly, I'm not sure if Earl meant Lemon-Lime Soda or if Lemon Soda was just easier to get back in the 70s. Either way, we worked with what we had.
And here are our Sparkling Gin Clarets:
These were mildly sweet, with three distinct (i.e. poorly mixed) flavors. First was gin, then wine, then the sweet aftertaste. It has a girly color, but doesn't taste quite as girly as it looks. We didn't follow directions very well because we didn't use three glasses, forgot to chill the soda, couldn't find our shaker, and forgot to make enough ice, resulting in a drink that was probably not as good as it should have been.
If you're wondering how we mixed it, this GIF from Goonies may help explain things: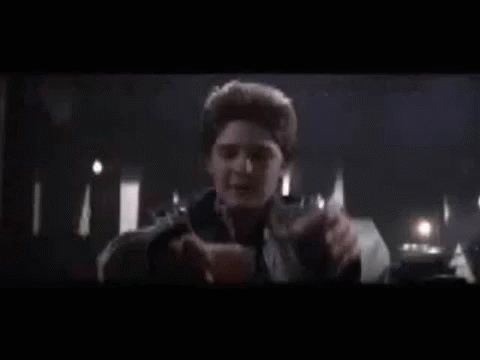 In any case, the Sparkling Gin Claret definitely tasted low-calorie, since the diet soda took up much of the glass. In other words, it tasted like warm diet soda with gin and cheap wine in it.

Not very good.
We even tried to add some actual lemon, but that didn't help much.

RATINGS:
Wife: 2.5/5 Ned Yosts
Me: 3.5/5 Dan Glasses
Next up, we made Rum Cocktail Coffee. Here are the ingredients:
You'll notice we didn't have fresh nutmeg, which probably was a bit of a difference maker. But by this time, we had found the shaker, so we thought things would even out.
Here are our Rum Coffee Cocktails:
They don't look bad, but my wife and I both about gagged upon drinking them. Hers tasted like straight rum and mine like black coffee. Not exactly what you would expect looking at them.
We then mixed our drinks together into a bigger glass and shared it, and that helped immensely.
Still, it wasn't great. Sort of like a bland Black Russian (a Bland Russian?). I guess that's what you get when you use Jamacian rum and coffee instead of Kahlua and vodka.
We decided to add some Hy-Vee Delecta (assuming that's the modern equivalent of Sucaryl), but that made it sickeningly sweet. It was really quite gross, and definitely a mucous maker.
RATINGS:
Wife:
4/5 Ned Yosts
Me:
4/5 Hochevars

Hey Earl Smith, can you defend yourself and these shitty low-calorie cocktails?


Thanks, dad.

Alright, we have one more alcoholic beverage recipe in the book, and it was submitted by the Royals Stadium Club bartender, Harry S.M. Bates, Jr.



Yes, the Tumbleweed ala Stadium Club. Sounds amazing and high calorie! Just what the doctor ordered. This bartender knew what he was doing, even if Harry S.M. Bates, Jr. sounds like a porn star's name.

Here are the ingredients:


You'll notice we did use frozen yogurt instead of ice cream, and I'd argue it didn't make a difference. So there is one way of making this drink slightly healthier, which might even satisfy old Earl Smith, though I doubt it.

Here are the finished Tumbleweeds, served in some vintage 1976 Royals glassware:


Maybe it was the calories, maybe it was Mark Littell & George Brett's faces, maybe it was the fact that we were already drunk off the other cocktails, but HOLY SHIT were these delicious.

Like a milkshake with booze in it. Basically, it's amazing.

RATINGS:

Both my wife and I gave it 10/10 Alex Gordons!


What say you, Harry S.M. Bates, Jr?



Remember Royals fans, when you're trying to figure out what makes the rest of this season worth watching, booze is the answer.

Go Alcohol! You're my MVP!