When the Royals took the field for their first official Spring Training game yesterday, I experienced many of the same feelings I have at the beginning of every season. Excitement, anticipation, and a healthy dose of what I call optipessimism.
Suddenly, however, I felt a wave of panic. It was ten years ago. The Royals had just come off of their first winning season in years and were turning a corner. The division was weak. They brought in some veteran bats. Expectations were high.
They had Benito Santiago.
They had top prospects Zack Grienke, David DeJesus and Mitch Maier waiting in the wings.
Somehow, it all went horribly wrong.
The Royals followed their 83 win campaign in 2003 with a 58-104 last place finish in 2004. How the hell did this happen? Could this happen again?
I tried to think back to that season and discovered that aside from Mendy Lopez's opening day heroics, I had completely blocked it from memory.
The only solution then, is a journey back to that despicable season. With the help of Baseball-Reference.com, Kansas City Star microfiche, and RWC's patented bad art I will attempt to uncover the fatal flaw of the 2004 Kansas City Royals, have a debate with myself, and attempt to answer the burning question:
Will the Royals suck this year?
POINT: The Royals had terrible uniforms in 2004. Black road caps. Sleeveless jerseys. We're back to sleeves and powder blue. We got this.
COUNTERPOINT: Yes, the unis sucked back then, but they were the same in 2003.
POINT: The Royals raised their payroll by 17% after 2003. This year's payroll is only supposed to grow by 11%. If that wasn't enough in 2004, how could it be now?
COUNTERPOINT: As recently as 2011, the Royals were dead last in payroll. Now they are positioned in the middle third. The Pirates made the playoffs last year. So did the Indians. Kind of. The Braves do it every year. No excuses.
Plus, maybe if you actually attended some games instead of just bitching on this blog, they could spend more.
COUNTER-COUNTERPOINT: Fuck off.
POINT: The Royals have a solid second baseman this year in Omar Infante. Ten years ago they were platooning Desi Relaford, Ruben Gotay and Tony Graffanino. Advantage 2014.
COUNTERPOINT: Desi Relaford was worthless in 2004. But he was also worthless in 2003. Tony Graffanino actually had a 1.1 WAR that year. On balance, the situation at 2B wasn't much worse than last year with Getz-Johnson-Bonifacio. That's not the reason they sucked.
POINT: In 2003, The Kansas City Chiefs followed up the Royals surprise season with a 9-0 start of their own. The following year both the Royals and Chiefs finished below .500. In 2013, The Chiefs again followed a promising Royals season going 9-0 to start the season and reaching the playoffs. A year later, we can only expect a step back from both teams. History repeats itself.
COUNTERPOINT: Holy shit, that's right. Not a good sign.
POINT: Allard Baird was a dumbass.
COUNTERPOINT: Dayton Moore is a dumbass.
Alright. I'm obviously getting nowhere. Looking back, the real reason, like all things in baseball, is pitching. The problem is staring me right in the face. In 2004, this was the Royals' projected starting rotation:
Brian Anderson
Darrell May
Jeremy Affeldt
Jimmy Gobble
Kevin Appier
Yes, our rotation was anchored by bumsticks whose decent 2003 numbers were proven to be a total aberration. Are you serious? How did we ever think 2004 was going to be a good season? Brian Anderson, the staff ace apparently, posted a 5.64 ERA while Darrell May logged 186 innings on his way to 19 losses. Appier started a total of two games.
Then we have 2003 All-Star closer Mike MacDougal losing all of his mojo to a stomach virus in Spring Training and spending most of the year in the minors.
Jesus Christ! No wonder I blocked all of this out.
Then of course, the season peaked with our beloved Carlos Beltran being traded to the Astros in June. Carlos achieved instant fame in the 2004 playoffs and the Royals were left with a box of rocks known as John Buck, Mark Teahen and Mike Wood.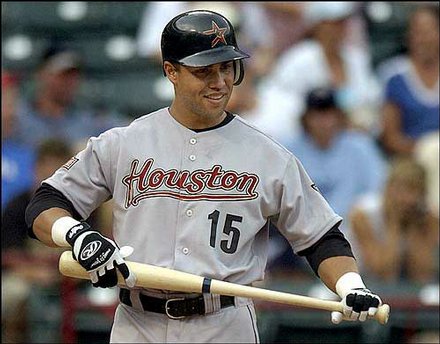 So Royals fans, as near as I can tell, this season looks nothing like a repeat of 2004. Now, if you told me that the top half of our rotation this year was Wade Davis, Ervin Santana and Felipe Paulino and that our closer was Everett Teaford, we would be in BIG trouble.
But we're not. We've got Big Game James. And Greg Holland.
And this guy.
Be Loyal. Be Royal.
Go Royals! You're The Best!